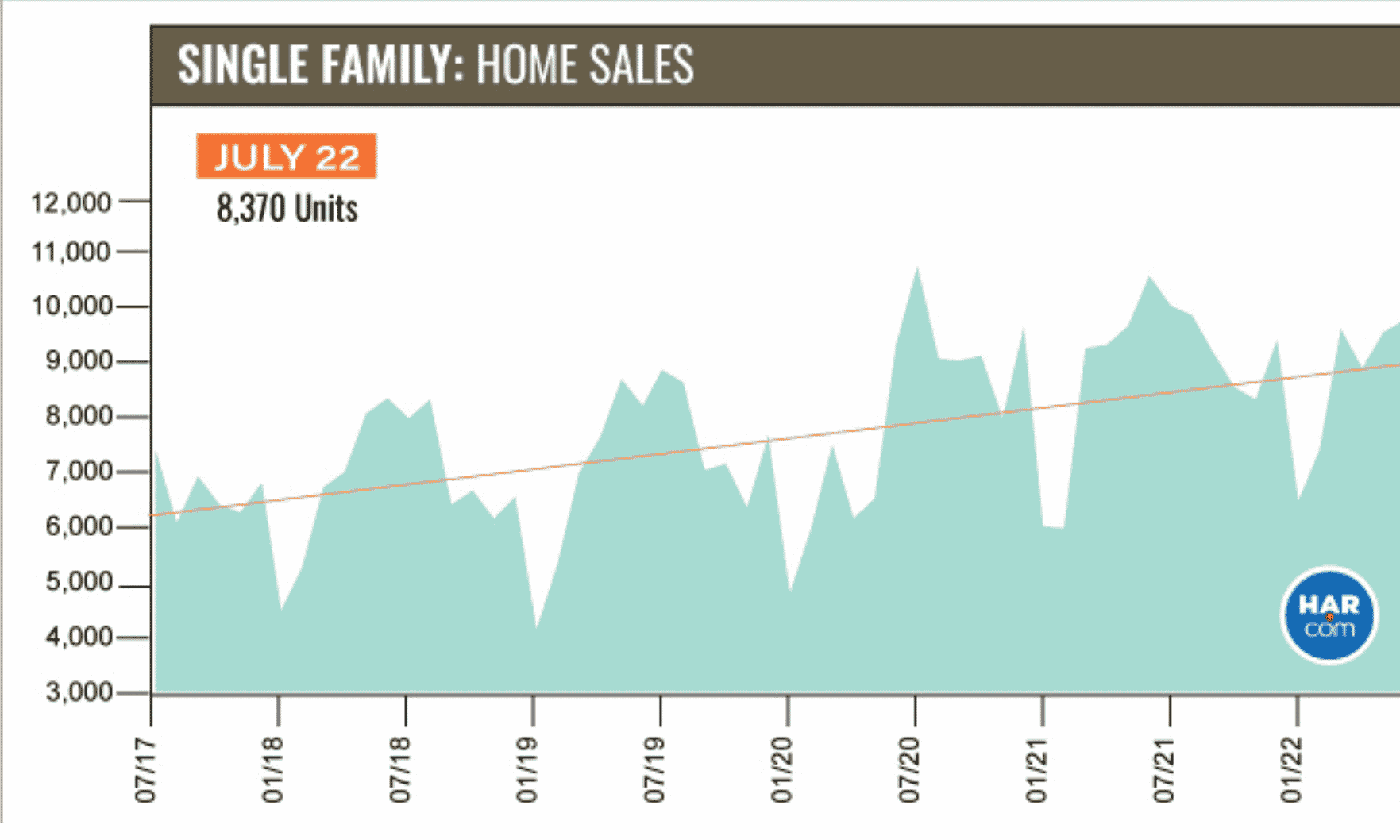 Houston real estate market struggles to maintain momentum
The blistering pace of home sales that dominated Houston's housing market for most of the pandemic continues to "slow its pace," according to a new report from the Houston Association of REALTORS® (HAR).
Some consumers, faced with record prices, rising interest rates and limited inventory, have opted out or opted to rent. As a result, home sales saw their fourth consecutive monthly decline in July, while new listings pushed inventories to their highest level in two years.
According to HAR's July 2022 market update, sales of single-family homes fell 17.1%, with 8,370 units sold compared to 10,102 in July 2021. The report notes that this is the lowest sales volume over one month since January 2022.
The market is 1.3% behind the record pace of 2021 since the start of the year. The only housing segment that did not experience negative sales in July was the $500,000 to $1 million segment, which jumped 40.6%.
Homes priced between $250,000 and $500,000 saw the smallest drop in sales, down 9.2%. With a limited assortment of homes priced below $250,000, consumers have had to weigh more expensive real estate options, focus on rental homes, or postpone plans to buy or rent altogether.
"Houston's blistering pace of housing for most of the pandemic was totally unsustainable, so the cooling we've been experiencing over the past four months was expected and part of a normalization of the market," the company said. HAR President, Jennifer Wauhob. "As long as we continue to see inventory rise and prices stabilize, I think homebuyers will leave the sidelines and come back into the market. Easing interest rates would also help, especially for first-time buyers desperate to grab the American dream of homeownership.
The average price of a single-family home rose 9.9% in July to $426,494, well below the record high of $438,844 set in May 2022. Likewise, the median price jumped 12.7% to hit $348,740, well below last month's all-time median high of $354,613.
The average price of a single-family home in Houston broke the $400,000 mark in March of this year. The median price has remained above $300,000 since May 2021. After hitting the 100% mark for three consecutive months, the price ratio close to the initial list price for single-family homes fell to 98.9% in July. According to the report, a reading above 100% indicates that most buyers have paid above the current market price for homes.