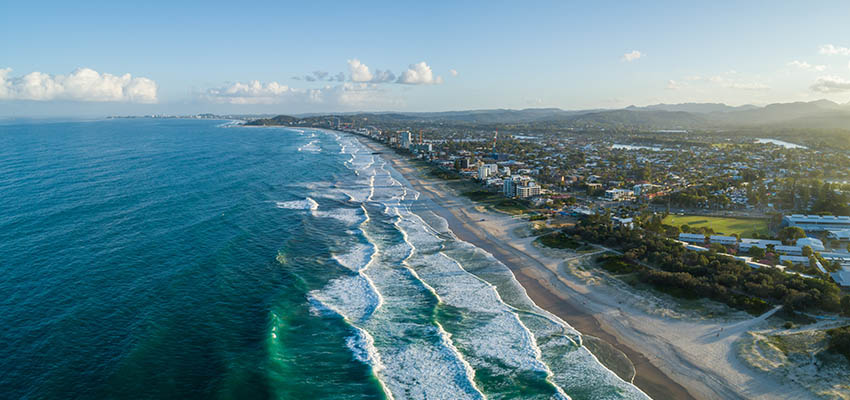 Qld tenants get no respite as supply squeeze tightens
Queensland's rental market continues to be a battleground for renters as vacancy rates remain well below levels considered by the state's top property body to be 'healthy'.
The latest data from the Real Estate Institute of Queensland (REIQ) showed the severity of the state's rental crisis, as vacancy rates across the vast majority of the Sunshine State continued to be below 1% at the end of the June quarter.
According to the institute, vacancy rates below 2.5% indicated a tight market, while rental markets with vacancy rates of 2.6% to 3.5% showed a balance between supply and Requirement.
At the other end of the spectrum, a vacancy rate of 3.6% or more characterizes a "weak" rental market.
Competition for vacant rental units in city centers was particularly fierce, REIQ noted.
Downtown suburbs recorded a vacancy rate of just 1%, reflecting a decline of 0.5 percentage points on a quarterly basis. Brisbane Local Government Area (LGA) led the overall city center vacancy rate after hitting a new low of just 0.8% in the period.
Antonia Mercorella, Executive Director of REIQ said the fact that Brisbane's city center rental market has tightened significantly this quarter is a reliable indicator of the exhaustion of supply in the capital.
"Typically there is more supply of apartments in the city center and keeping Brisbane's vacancy rate fairly buoyant, but what we're seeing now is that even that market is filled to the brim. ", she said.
The REIQ also reported anemic levels of rental supply in Brisbane's outer areas, with average vacancy rates in markets across the region contracting by 0.1%.
Data showed that the tightest rental markets in the Outer Brisbane region were Logan LGA (0.6%), Moreton Bay LGA (0.4%) and the Pine Rivers Shire area (0.5%).
Interestingly, REIQ noted that some areas – particularly on the coasts – have seen gains in rental vacancy rates, albeit marginal.
The data showed that positive changes were seen in coastal holiday markets such as Noosa (1.1%), Caloundra Coast (0.9%) and Sunshine Coast (SD) Statistical Division (0.8% ).
Despite the consistent 0.3% increase in vacancy levels recorded in these coastal markets during the quarter, REIQ pointed out that the areas mentioned remained in the unhealthy territory.
Commenting on the figures, Ms. Mercorella said the easing of tight vacancy rates in some of Queensland's coastal areas was perplexing, and it would be interesting to see if those markets continued to ease over the next three months.
"Given that we have seen a lot of properties in prime locations change hands following very strong sales conditions, perhaps some of these are now coming to market as rentals," a- she declared.
The latest report from the institute showed that other tourist centers kept their vacancy rates tight during the period, with the exception of slight increases limited to 0.1% in Gold Coast (0.5% ), Sunshine Coast LGA (0.6%), Maroochy Coast (0.5%), Hinterland (0.5%) and Whitsundays (0.8%).
Of all areas in the state, rental markets in Goondiwindi and the Southern Downs were the tightest, with vacancy rates in the areas down 0.1%.
REIQ pointed out that the only healthy rental market in the state is Redland's Bay Island, which posted a quarterly vacancy rate of 3.2%.
Low vacancy rates are 'taking a toll' on Queenslanders
Ms Mercorella said after consecutive quarters of drastically low vacancy rates, desperate renters are getting closer to the end of their ropes.
"Queenslanders have been experiencing these extremely slim vacancy rates for some time now and these conditions naturally have social and economic ramifications," Ms Mercorella said.
She said estate agents have reported that incredibly tight vacancy rates in regional areas have made it more difficult for healthcare workers, teaching staff and students to find housing close to where they work or live. 'studies.
Ms. Mercorella stressed the need to address this issue, which will inevitably impact the economic stability of the state if left unresolved. "These people bring skills and expense to the regions, all contributing to the economic prosperity and social fabric of the region, and it's a truly concerning loss for these communities when they simply can't house them," said she declared.
Additionally, Mercorella said the tight rental market is creating stress not only for tenants, but also for property managers.
"Chances are that for every property, there are a multitude of candidates who would make perfect tenants — however, the sad reality is that only one application for each property can be approved, and people are missing out just because it's so competitive," she said.
Ms Mercorella also warned that with fierce competition among tenants comes a new set of cyber risks.
"Often, when the market is competitive, people are pushed to seek rentals outside of traditional means, such as on social media, which of course can open up more options but comes with risks," she said. declared.
She advised tenants looking for a vacant rental to keep their eyes peeled and not fall for rental scams.
"It's important to stay alert to rental scams by making sure a property is legit and the owner is who they say they are before transferring money – vilely there are cyber criminals who are trying to take advantage of people who are desperate for a home, and a telltale sign can be a property advertised for a price well below the average market rate in the area," Ms. Mercorella said.
The REIQ executive called on the government to tackle the rent crisis in the state, saying people are "sneaking through the cracks in growing queues for social housing".
"There is no doubt that the government's poor planning and lack of forecasting of our future needs has played a rather large role in the current situation," Ms Mercorella said.
She stressed that creative solutions must be put on the table and implemented to revive the state's dangerously low vacancy rates, calling for "a real long-term plan to house our people now and in the future." .