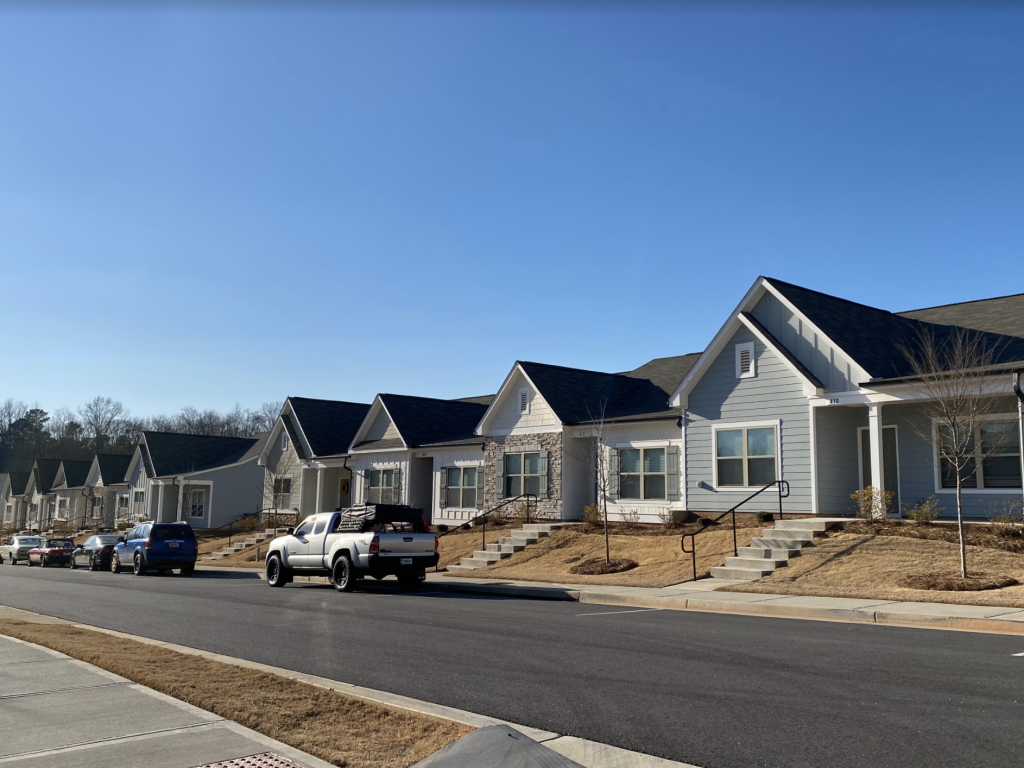 The Rise of Build-to-Rent Communities is Changing the Local Real Estate Market — Grady Newsource
Buying a home is becoming more expensive, even in small towns in Northeast Georgia.
Housing prices in the area experienced three-year highs toward the end of last year, as low mortgage rates prompted the demand for single-family homes to outweigh the available supply. This creates a phenomenon called a "seller's market," where individuals putting their homes on the market have more control over pricing.
The shortage of materials used to build new houses and the demand for larger homes are both effects of the pandemic, along with the migration of residents from metropolitan areas to suburban areas and small towns. As work-from-home business models spread across the country, workers look to move further away from central business districts and closer to areas that offer more square footage for their money.
While decreasing mortgage rates should make homeownership more achievable, inflation plays a role in housing price increases, rendering millennials and Generation Zers less capable of purchasing homes. These generations are most affected by the issue of rising prices combined with stagnant wages.
However, the increase in new developments is also driving up prices for rentals, making it more difficult for residents to afford a place to live.
In response to the hyperactive real estate market, buyers have turned to build-to-rent single-family homes, which combine elements of homeownership and multifamily renting.
 Why It's Newsworthy: Investors broadening the build-to-rent market are depriving real estate agents from sales and the general public from better chances of homeownership. These effects are especially detrimental in a seller's market, where overall home supply is at a low. 
Build-to-Rent Defined
Build-to-rent homes are houses specifically built to be rented out to tenants. 
While rentable single-family homes have existed for decades, communities of single-family homes built solely for renting first began appearing in 2015. Single-family rental communities have since expanded across the country, with 50,000 new units completed in 2020 alone. According to a report from Northmarq, a company that connects commercial real estate investors to experts in debt and loan servicing, single-family rental community growth was greatest in the southern United States in 2020, followed by the Midwest.
These rental communities offer the amenities of a single-family home without the drawbacks of homeownership. While each community differs, a standard home could have two to three bedrooms, a one- or two-car garage and lawns to manage.
Single-family rentals appeal to a variety of demographics, especially families who cannot be approved for a loan through a bank in order to purchase a home of their own.
BTR and the Real Estate Market
Build-to-rent offers an alternative to purchasing a home, but this alternative grows powerful at the expense of the real estate market.
Sylvan Cown, broker of real estate and property management company Our Town Realty in Athens, said this new business model could create a problem for real estate agents in the future, as it removes agents from the housing equation almost entirely. 
"[The developers] come in, they buy the land, they build, they rent," Cown said. "Unless you're the real estate agent who originally sold them the land, [it basically cuts you out]."
Build-to-let developers also take away development opportunities from brokers when they buy property in a given area and convert it into rental housing.
In terms of land mass, Athens-Clarke County is the smallest of 159 counties in Georgia, which means there is not much space to build and expand. Cown said the build-to-let market's takeover of the city could push residents into counties surrounding Athens as prices within the city limits and county boundaries continue to rise.
Despite low interest rates, the real estate market remains unstable. Cown said safeguarding the supply chain is responsible for fewer homes being built and coming to market, resulting in a situation where consumer demand exceeds supply.
"We just can't get things here fast enough," Cown said, referring to building materials for new construction. "[Developers] will just get [materials] faster and throw those [rental homes] get out quickly.
On the other hand, Grace Williamson, agent at Our Town Realty, said she remains hopeful that real estate agents will not be overwhelmed in the future.
"I expect an increase in BTRs and SFRs to create some competition for real estate agents," Williamson said. "Although that's something most agents in this market are used to!"
BTR in Athens
University towns like Athens tend to have a larger rental presence due to the migration of students each academic year. Property management companies have created an industry of developing off-campus student housing complexes in college towns across the country. Building for rent seems to be their next business venture.
Landmark Properties, a property management company headquartered in Athens, announcement it would enter the construction market to rent in a statement posted on their website on July 1 last year. The self-proclaimed "Best Student Housing Developer in the Nation" said his desire to seize new opportunities for business growth was a motivation to enter the build-to-let market.
"As our country and our region go through a demographic transition, we are well positioned to develop and build a variety of housing types not only for students, but also for others who want an unparalleled rental experience," said Landmark CEO and President Wes Rogers in the announcement. .
According to the release, Landmark plans to implement this business model to reach a new tenant demographic in the Atlanta area. The company also announced plans to open an Atlanta office in the Buckhead neighborhood in the same release. The new office was to open last fall.
Developers based around Atlanta are also targeting the northeast Georgia region. Jim Chapman Communities completed construction of The Cottages at Ridge Pointe in February 2020, one of three single-family rental communities scattered across Georgia. Six other communities are slated to open later this year in the state. JPMorgan Chase has announced that it has purchased the community in March 2021 and recruited RangeWater Real Estate, an Atlanta-based agency, to manage it.
Crystal McNamara, an employee of The Cottages at Ridge Pointe, said the community is open to anyone who can pass a background and credit check and can prove they are financially capable of paying rent on time each month.
McNamara said RangeWater charges its tenants a monthly community fee of $110, which relieves tenants of managing their own garbage collection, recycling, maintenance, lawn care and wrestling. pest control. Additional costs also cover the use and maintenance of the community's public amenities, which include an outdoor swimming pool, pet park, and fitness center.
"It's pretty much run like a regular apartment community," she said.
Jim Chapman Communities has built another single-family rental community in Athens on the east side called Cabins in Lexington. The property offers Approvals similar to its sister community as well as similar floor plans.
BTR in Northeast Georgia
Other parts of northeast Georgia could be the next target of BTR's developer business plans.
According to PR Newswire, Kinloch Partnersreal estate investment company specializing in the rental of single-family homes, announcement it would begin developing rental properties in Jackson County in conjunction with the already established subdivision Traditions of Braselton.
In the press release, co-founder and CEO of Kinloch Partners, Bruce McNeilagesaid baby boomers were a target demographic in the company's build-to-let business.
"Baby boomers are retiring and heading to warmer climates with lower tax rates, but often don't want the burden of homeownership," McNeilage said in the release. "We are happy to fill this much-needed market niche."
Cown said build-to-let was strong in Monroe, Georgia as well as a city located one hour east of Atlanta and 30 minutes southwest of Athens. Single-family rental developer Residential Progress succeeded by purchasing available land and housing and then converting it into single-family homes for rent.
Property management developers with national reach are likely to continue venturing into cities like Monroe, as well as suburban and urban areas. As the build-to-let industry continues to grow, buyable properties may become harder to find.
"If you're an individual selling your home, that will be better for you," Cown said. "Because if there's nothing to buy in town, it's going to drive people out."
Janelle Ward has degrees in journalism and history.